Welcome to the
Wedding of Amanda & Eric Simon
December 9, 1995

On December 9, 1995, Amanda Marsh and Eric Simon were married at the Seth Peterson Cottage, in Mirror Lake State Park, Lake Delton, Wisconsin. A splendid time was guaranteed for all, and the celebration lived up to any and all expectations.

Reb & Stef got to Madison, WI on Friday, just ahead of a big snowstorm that was moving eastward. They picked up carolyn and Paul and another friend, Rob Nahf, at the airport, and we were off to Wisconsin Dells, about 44 miles north. That evening, after arriving at the Chula Vista resort ("A Southern California Style Resort" ;-), we had a wonderful dinner at Steak and Stein, a restaurant down the road from the hotel. Eric, Amanda, and assorted friends and siblings were there.



On Saturday, the snow stopped falling, but it was much colder. Reb and Rob ventured into town after breakfast. The bank clock downtown read -4 F (-18 C), and the wind was blowing at up to 30mph. Reb's beard started to freeze while they were walking around!


Guests began arriving at the Seth Peterson Cottage about 2 PM. We were elegantly dressed in tuxes and evening dresses, with snow boots on our feet! (Yes, we changed into our dress shoes later.)


The Cottage was one of Frank Lloyd Wright's last commissions. It's in Mirror Lake State Park, in Lake Delton, WI. It has one bedroom, a Manhattan-size kitchenette (with a Subzero fridge/freezer, that Wright specified), and a sizable living area, just perfect for 29 guests. The entire floor is flagstone, heated from beneath. One wall of the living area is all windows, as well as about half the two walls that

immediately adjoin this one. There is a large, open stone fireplace behind the kitchen, and a built-in settee on another wall. The non-glass walls in this area are made of sandstone, with some of the bricks sticking out far enough to accommodate the candles that had been placed there by Eric and Amanda.

The bedroom featured built-in wooden closet space and a queen-size bed. The bathroom was reached through the bedroom. Its most interesting feature was the corner shower -- only a curtain on a curved ceiling track separated it from the rest of the room. A drain was perfectly positioned in the stone floor.

It was into this wonderful, warm space that we stepped, as the family was snapping pictures and the caterers were busily setting up. Amanda looked classically beautiful in a long, straight, ivory dress that was made entirely of delicate needleworked flowers. Eric was smashing in his black tuxedo with a gorgeous painted vest.

| | | | |
| --- | --- | --- | --- |
| | | | |
| Robert, Jennifer, Eric, Amanda, Phil, Sheila, and Marshall | Eric's mother & stepfather | Eric and his father, Marshall | Amanda's friends, Laura, Elise, and Adam |

As the ceremony started, Eric and Amanda thanked each of the guests individually for their unique contributions to their relationship. They had written their own vows, and with amazing confidence and calmness, they spoke about their great love for each other. How they promised to be completely devoted to each other, and wished to give each other every opportunity to grow individually and do what they wanted in their own lives. How they will be loving parents when the time comes.

They had engaged the services of county commissioner Leo Grill (whimsically chosen for his cool name, according to Eric) for the legal part, and when the time came, Leo had us all pronounce them "husband and wife" together (except that it came out more like "man and wife" due to the decibel level of the traditionalists in the room)


After the ceremony, we feasted and drank merrily, for about seven hours. It was wonderful. The caterers actually cooked most of the

food at the cottage. The dinner was like eating in an intimate, private restaurant. All six courses were excellent. We dimmed the lights and lit all of the candles. Eric and Amanda had taken special care of special details like the music. They had recorded a total of eight hours' worth of music on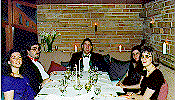 five tapes, perfectly timed so that the jazz section would play during dinner. They had also wired the cottage for sound, with speakers discreetly hidden in corners, on shelves, and even in the fireplace.

This was the first wedding we had ever been to with door prizes. The prizes were given out for a variety of things, such as noting the music which was playing, noting that the window trim Wright designed for the cottage matched the design on the envelope the invitation came in, and for making particularly memorable toasts to the bride and groom.



For door prizes, they gave out "Eric and Amanda" trading cards, series A and series B, with their pictures and "Fun facts" about Eric & Amanda on them, cassette tapes of the music that they were playing, post cards with pictures of the cabin, Frank Lloyd Wright mugs and other memorabilia, and Wisconsin shot glasses.

All in all, we feasted for about seven hours, and a number of people became members of the "six wine club" (so named because a different wine was served with each course). Several times, ejs reminded everyone of ricko's rule -- to drink one glass of water for every two glasses of wine. Everyone talked to everyone else. It really was a most fabulous day. Even though the cottage was really rather small, the warmth of those in attendance made it seem large. Though we were in the middle of the woods, miles from anywhere, it seemed like the center of the universe. It was nearly midnight when we finally left.
Mazeltov to Amanda and Eric. We know you will have a wonderful life together.


Back to the Cafe


Send comments to [email protected]